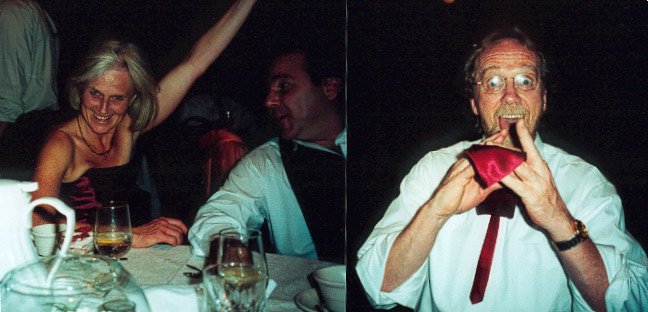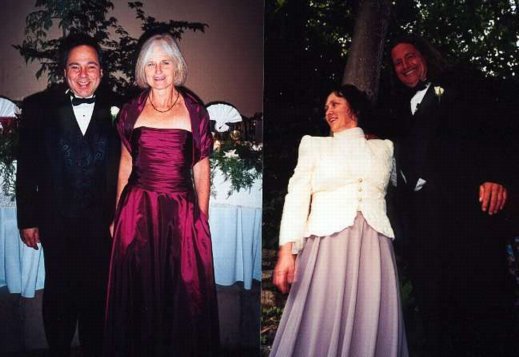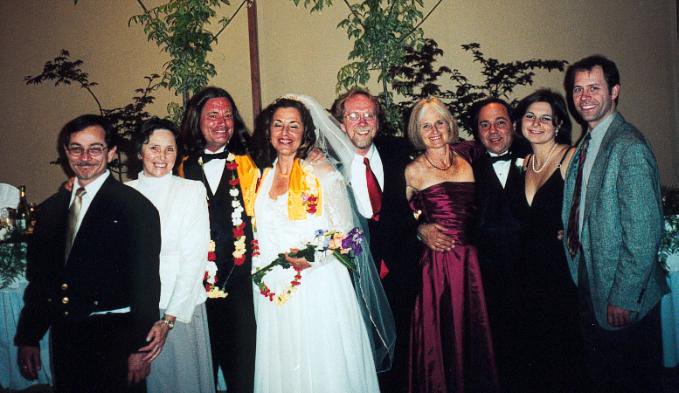 Some of Justin's Photos
At The Rehersal Dinner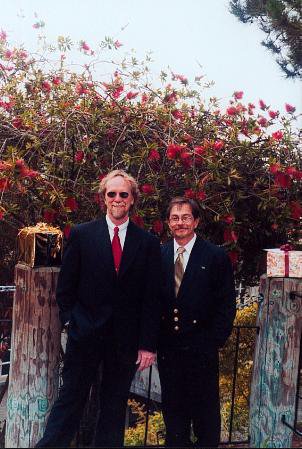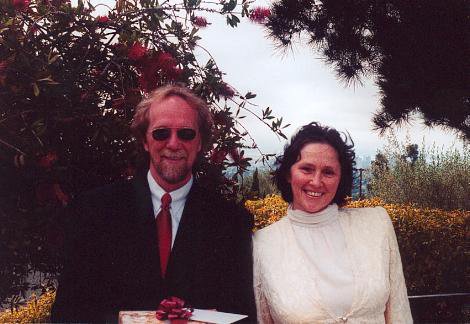 Awaiting the Limo up to the Ceremony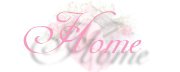 Wedding Description by Brother Justin
I speak for myself when I say that I just attended the one of the most beautiful weddings ever performed. And, I could easily say that all the other attendees would agree with that statement because I could see it in their faces and feel it from their hearts.
Be they staunch Catholics, Jews, Buddhists, Protestants, Christians or Spiritual types alike, whether they came from New York, Tennessee, Rhode Island, Kansas or the East Bay
and whether it was Aerin & Shima getting married or Scott and Judi or any combination thereof, I believe, that from all perspectives, something very special was just witnessed.
Something which merged all these perspectives into one great and beautiful shared memory.

"Beautiful" isn't the only word to describe it but it's a very good start.

It all started for me at a cocktail party Friday night at Sinne's house across the street from Aerin's on Sherwood.
Sinne is an extremely creative and absolutely gorgeous African American woman who shares this house with her remarkable husband whose name escapes me.

Most remarkable, I dare say, is their house. Whether contemporary or not, J.R.R. Tolkien and Frank LLoyd Wright must have collaborated on this house as it is the most imaginative structure in brick that I've ever set foot in.
No two rooms on the same level, nothing overtly angular or strident, the house just flows from room to beamed room, from tower, up winding steps, to turret.
The dim lighting from wall-mounted sconces and multiple crystal chandeliers set the mood but the time of day didn't do justice to the myriad stained glass windows and wine bottles horizontally set right into the walls for the sun to pour into.

Arriving fashionably late (Q had tickets for us to a Giant's game at the new Pac Bell Park) in our 'evening wear optional' (Q changed in the driveway), we began to meet our new friends for the weekend, feasting and imbibing all the while on fresh fruit, jumbo prawns, canapes and assorted frou-frou's tastily stuffed with nothing but the best this and thats. Some of the richest chocolate and finest wines flowed freely throughout.

Who came the furthest (Govinda and I lost) and the beauty, proportion, and expense of the as yet untrodden arched bridge built as a centerpiece of Aerin's magical garden and especially for the wedding ceremony by the best man, Garner, were topics of discussion as were the high heels of the usually intrepid bride, her maid of honor and bridesmaids. Seems mulched paths and rock steps might be an issue for some. I got not only a nice buzz from the evening but also an invitation from the bride to the next night's rehearsal dinner hosted by the groom's father.

Thank-you Shima. An excellent time was had by all (40 or so) at Zza's Italian Trattoria in Oakland Saturday night starting not quite sharp at 7:00 PM. We had our own dining room, actually a storefront two doors down from the restaurant, and once again, the wine flowed freely. Plenty of Pelegrino, too. Three kinds of pasta all chocked full of various stuff, a mixed green salad with Italian cheese, a prosciutto platter and all the delicious sourdough bread and butter you could eat were devoured by all. I don't think there was a speck of food left. Way much fun, way much laughter and way much wine later, the portion packs of sugar and creamers stated to sail through the air like rice at a wedding. I'm am meeting more of and beginning to greatly appreciate the likes on Aerin's mens group, The Nation of Men. A Funner bunch, you'll never meet. But more about them, later. Another nice buzz and this time an invitation (Thank-you, again, Shima) to ride in the limo tomorrow, to and from the wedding. It was suggested that due to unavailable parking on Aerin's steep and winding street, the guests park at the Greek Orthodox Church where the reception is to be held and be shuttled back and forth by limo or van. This made the best of sense and worked out very well. (Though fourteen stuffed in a limousine, tuxedos and gowns or not, detracts slightly from the aura (not to mention the air) of status and elegance usually portrayed by such a conveyance. It was, nevertheless, a hoot for most.)

Wedding day (Sunday) dawns a bit chilly and fogged over (oops, can't call it fog anymore. It's the "Marine Layer"). Rog and I get a set of tennis in and by early afternoon, the sun is peaking out here and there. Ladybear arrives from Mt Shasta and we meet and merrily chat away in our rooms at the Four Points Sheraton in Emeryville. (Alas, Lily flew home to be at her Mother's side in Detroit and could not make the wedding. We missed her madly and pray for her Mother's recovery.) It's soon time to put on our 'nines' and get on with the main event. The wedding is scheduled for precisely 3:45 PM and we arrive to the most exquisitely beautiful acre of God's garden I've ever seen. Aerin, you're amazing!! Every bit of at least 500 species of flora are well- established and in full bloom. Dozens of little trails and walks meander up, down and through this little acre like filigree tracing their way to each other, to the stand of redwoods, the bridge or the next display of nature's glory. Hundreds of tons of rock anchor this paradise to the earth to give it strength and purpose. Hold it to planet so it doesn't waft away into the ethers from where it surely came.

The groomsmen do their job of ushering the guests to their rock, their ledge, their cushioned bench, their incongruous chair. There's rose pedals strewn on certain paths and steps -- the promenade of the bride and her ladies in waiting, Osha included, to the center of it all, the masterpiece of the arched bridge. Under the pedals there's a soft mulch that gives gently under your feet. Further evidence of the ethereal nature of this place. From the vantage point of the arched bridge, we must appear as little elves, wood nymphs, diaphanous sylphs and sprites peering through the ferns and flowers at what will soon become a vision of sunlit ceremony. But it's 3:45 PM and sun does not shine and the wedding is somehow stalled and the proverbial angst of a delayed wedding provokes the proverbial questions. Who's not here? Turns out, its Rina Sircar, the officiant, the Burmese Buddhist nun who's been an ongoing source of inspiration and spiritual renewal for Aerin, Quicksilver and all the Gentle Brothers and Sisters for over 25 years. Turns out her driver got a little lost and there was a car blocking the street and Shima knew it wouldn't start on time anyway and so ...

At 4:15 PM, with the sun in full, radiant shine, the procession begins down the pedalled paths and the high-heeled bridesmaids reach out for hands of balance, support and assurance from any and all directions as they safely make their way followed by the bride to the bridge which is flanked on each side by the parents and families of the happy couple. (Happy couple?! I've never seen a couple so beamingly joyous as these two.) Rina is the first to ascend the arch of the bridge followed by her ubiquitous assistant, DeeDee. The ceremony begins.

I can't relay an exact accounting of all aspects of the Buddhist rite of marriage as performed by Rina.
It went on for over an hour and it was, at once, beautiful, spiritual, magical, mystical, ceremonial and comical. Rina said later that she channelled the whole thing and we wondered whether it was Taungpulu she was channelling or Groucho Marx. Certainly both. It was filled not only with touching formality but also a lasting levity. And it put great beaming smiles not only on the wedding party but on every one of the guests.

Aerin and Shima's reciting of their vows was very special. The exchanging of honey to the mouths of all participants including the parents was enriching and well recieved. The blessing with the sanctified waters from Burma consecrated by Taungpulu himself was most auspicious. The saffron scarves, the flower garlands, the shielding veil over the 'first kiss' and the diverting of the eyes of all attendees to protect the secret sanctity of this moment were all remarkable touches that made this a memorable event.
The music as DJ'd from high up on the deck added solemnity, tradition and appropriateness to the various movements of the rites. The recieving line was an event in itself. I jumped out of line to acknowledge Rina and took cuts to get back in with only a minor brouhaha.

I loved it. Everyone loved it. And the glow pervaded right on through the reception which followed immediately in this wonderful Greek Orthodox hall overlooking the entire Bay, the bridges and the City.

I believe the round tables were set for approx 150 people with great snifters filled with gardenias and surrounded with votive candles. Loads of stemwear, way too much silverwear, finely caligraphed nameplates and gold, embossed little note cards, matchbook-style, adorned the chintz covered tables.
Ladybear, Govinda and I sat with Seraph and her boyfriend Will, The Delgados, Ricardo and Lothar, (He did an amazing gypsy dance in full basque regalia later after dinner that astounded the entire assembly.) Bill and Ann, co-founders of Rainbow Grocery with Shima, also graced our table.

Also astounding (check the looks on their faces) was the Aerin & Shima chair-raising dance performed by the Nation of Men boys. What a rush of pure and positive force. What a juggernaut of joy these guys are. Imagine 30 men bringing 30 of their best friends to a party to fete their very best friend and spiritual advisor and his lovely new wife. These guys were so funny, so happy, so open, so endearing. No bravado, no machismo. Just pure joy and happiness to be celebrating in each others presence. Comraderie has never had a better example. Everybody danced. They were people in wheel chairs dancing. The place rocked. I know I danced my foolhead off with anyone who could keep up. Aerin and Shima danced all night. With everyone. Everybody danced. With everyone. Maybe it was the champagne this time. But the same DJ did the music and certainly has a feel for making dance magic happen at a wedding reception.

This is where some of us met Cristhal Bennett for the first time (I actually met her in the parking lot before the wedding with an instant connection that I'll remember always. She is my sister from the wayback).
She is an enlightened being from the first forest and is pursuing her ministry with an organization she does not rave about.

Let me just say that the food was fabulous, salmon or chicken with excellent sauces. The wedding cake was superb, a raspberry layered something that melted in your mouth. The champagne, the best.

I'll never forget this wedding. Nor the look and feel of both Aerin, but especially, Shima 24 hours later at a GBS dinner at Guaymas in Tiburon Monday night.
She was glowing and I'm sure continues to do so as she basks in the memory of an event that exceeded even her expectations. And she's the one who planned it. With Aerin's great and gracious help, of course.
Sorry this has become a treatise. My memories are many and myriad. I had to impart them all to you.